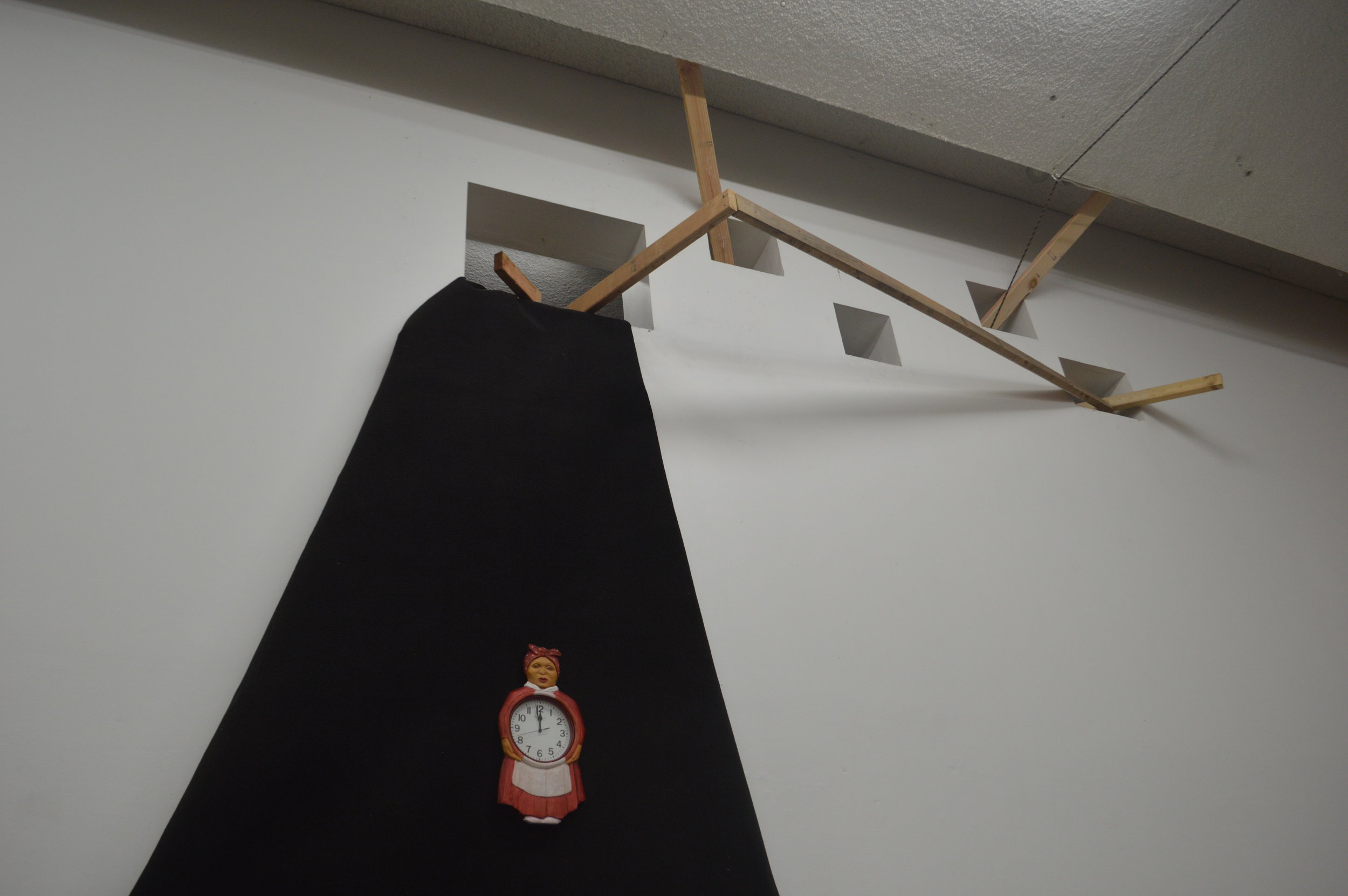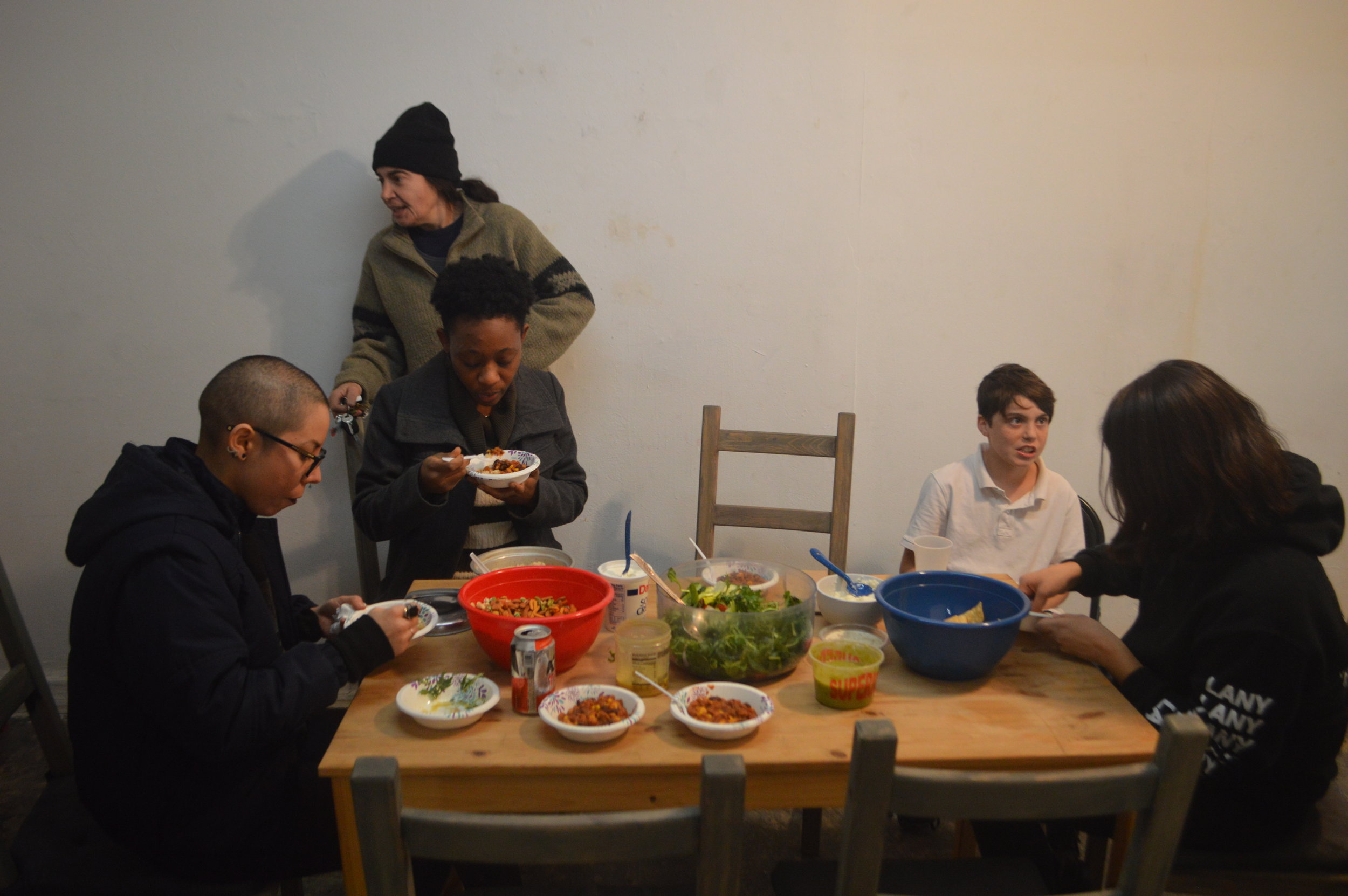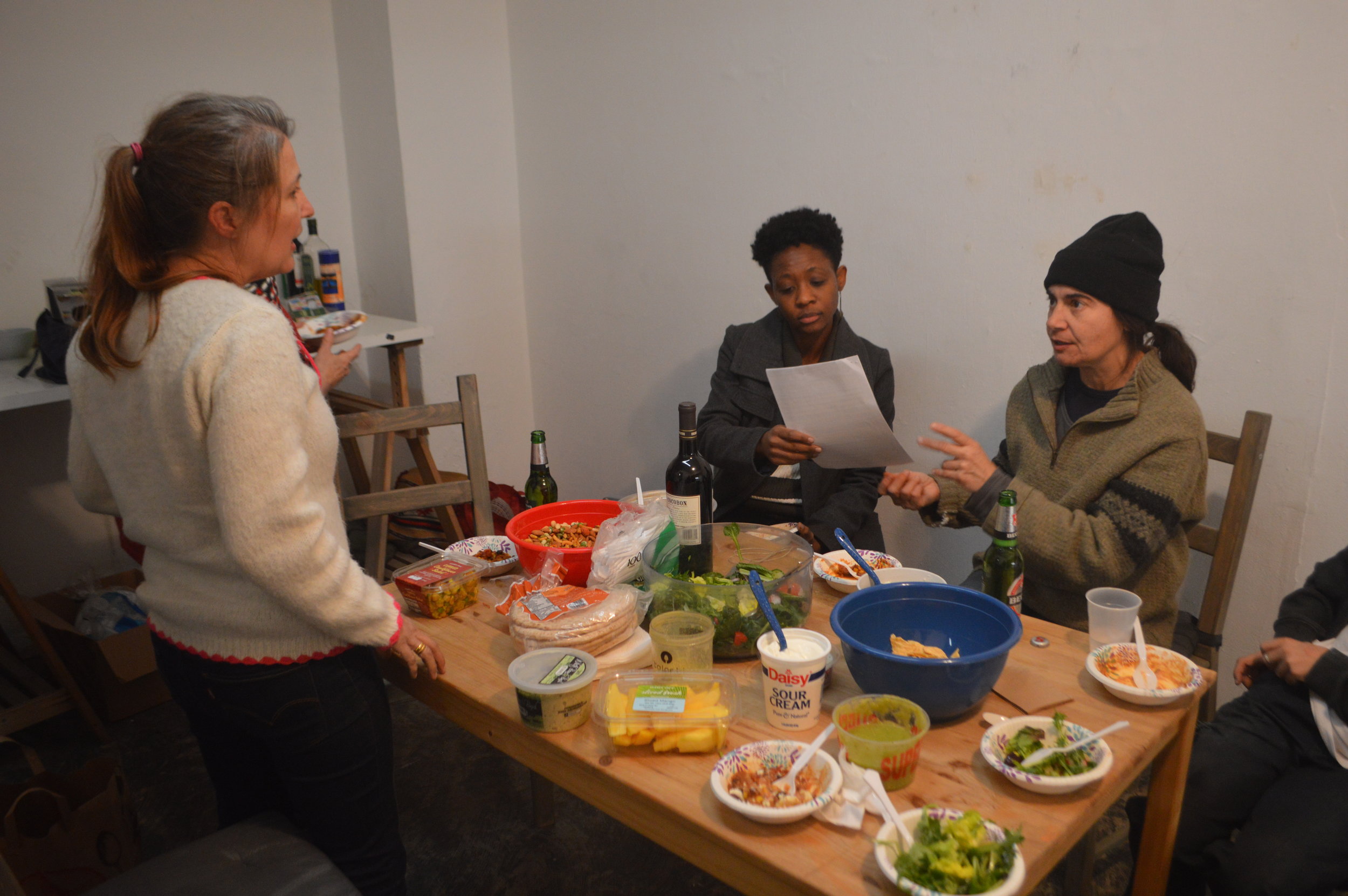 To begin, a structure made of scaffolding and wood that reorganizes and reshapes the internal space of Human Resources. In the course of this reshaping, we hold an exhibition that serves to model dynamic notions of connection, difference, and community, and to reflect the conscious self-creating of a group process. Inspired by notions of empathy and intersubjectivity in the Netflix original series (now cancelled) Sense8, a cluster was created by Olga Koumoundouros: John Booortle, von curtis, Alexander Kroll, Francesca Lalanne, Kristy Lovich/Mountain House, Ofelia Marquez, and Jennifer Moon. Brought together to be part of this material and psychic experiment, this group of artists use a diverse set of strategies to understand people, to build and express empathy. Because of this, the structure, and the events we organize throughout the exhibition, tend towards care and support systems: setting up the conditions to be making work together, to add onto, and to grow into.
Mountain House at WE (tbd)
When we were invited to be a part of this exhibition we immediately felt motivated to pick up Olga's initial gesture of opening the space of this cultural real estate to each of us (as a rejection of a focus on her subjectivity as dominant voice) and extend it forward into the communities we are most accountable to by replicating or echoing that action, building out space for extended participation. Allowing the invitation into Olga's project to dove tail with the development of Mountain House, we recognized a mutual benefit in forming a relationship between the two through our shared interest in uprooting norms and practices around the distribution of cultural real estate, authorship, and participation. To this end, WE (tbd) became a test site for the first public iteration of Mountain House.
Guiding Principles, Questions, Goals:
Collaborative/Participatory Structure: We wanted to find ways to participate that lifts the emphasis away from individual authorship and moves toward our roles as a stewards or caretakers of relationship and community. We want to engage with this process as a "we" –that is, a stand-in for multiple subjectivities, a point of departure into a complex of relationships and varied community membership: we want to obliterate our names. We refuse to think about our work as private property. Rather, we prefer to think that we produce knowledge for a shared benefit and as individuals we are tasked with making decisions about cultural content that cares for that material and the relationships it forms. We intend to participate in this project as an organizational entity or architecture. We are curious about what it means for a place to become an artist: my life as a house? Our life as a neighborhood?
Access & Inclusion: We are intent on carving out space within the cultural field that provides structures of participation and support for cultural workers that are also actively parenting/caretaking and especially those that are also members of historically marginalized groups: women, femmes, mothers of color, lgbtqia families, people experiencing homelessness and other forms of housing insecurity. This gesture supports a deep belief that (1) systems of cultural production can be thought of as an economy of care and mutual aid, (2) we must prioritize the need for greater access to forms of participation in political/social/cultural speech, and (3) relational stewardship is a form of political action.
Ethics of Engagement: How can an arts-oriented organization remain accountable and connected to other forms of cultural change, specifically non-art specific movements for social justice? How is this made manifest through specific practices, structures, relational conduct?
Political maneuvers: We were very interested in observing the outcomes of positioning different and sometimes contradicting or incongruous forms of culture work near one another (ie: child- care/'fine" art, principles and strategies of community organizing/goals and expectations of varied art practices). What could the emerging confusion, disagreement, discomfort OR cohesion say about limitations in each form of culture work and for the possibilities of new forms to exist?
Relationship: It was extremely important to us that each of the collaborators we reached out to were individuals or groups that illicit an authentic sense of commitment, accountability, trust, and mutual desire to remain connected. We made it clear to all collaborators that we consider our work together an expression of long term co-struggle and inter-community/inter-personal care.
Form & Space: How does the form of the space designed to be acted upon by participants change according to the needs of the specific activities taking place, all the while accommodating the physical, sensory, and time-based needs of people across many age groups, centering the needs of the most vulnerable (newborn, infant, toddler, chest/breastfeeding/postpartum parents, and elders)? In what ways to the spatial-temporal needs of participants and the aesthetic/formal/conceptual goals shape and impact one another? How do their specific limitations, differences in strategy, intended outcome, or agenda align, diverge, contradict?
Collaborators
As a way to enact and embody the intent of Mountain House as an organization we populated the space of the exhibition with a full calendar of programming designed to address the core conceptual concerns of the organization. This incubator provided valuable research sites and experiences for the long-term development of Mountain House while serving the underlying goal of building deeper relationships within the cultural field, building vocabulary for more equitable systems of participation.
Hey Baby/a feminist parenting group: HEY BABY is a meet-up group for feminist parents and their babies that has evolved since 2016 into a dynamic network of diverse families. Initially formed as a project of the Women's Center for Creative Work, Hey Baby currently operates as an autonomous, participant led group. Since its inception, they have carried out bi-weekly and holiday oriented parent/child meet ups, political education events, workshops, and various forms of family centered of political activism.
CO/WORK/PLAY: For the exhibition Hey Baby created CO/WORK/PLAY, an exploration into the assertion that culture work is a form of care and care is a form of culture work. This collective project unfolded over the course of the exhibition through a series of co/work/play meet ups among children, babies, and their caretakers within the HEY BABY community and beyond. Families were invited to use Human Resources as an open art studio space, centering simultaneous work and play, divergent artistic and labor practices, and the critical importance of care as a cultural contribution.
Space: The primary site for this project was located on the second floor of Human Resources. Initially designed as a co-work studio that supports multiple forms of work and play, the space was outfitted with work tables that also served as dwellings and private spaces for children, a "cabin" for naps and rest, art and reading materials, and organizational information. Over the course of the exhibition this space changed dramatically and our activities eventually migrated throughout the entire space using the other structures as play objects, functional objects and many of the materials were reconstituted over time as a way to address shifts in focus and information revealed by our process.
Shared Authorship: In addition to free form gatherings, several parent organizers within Hey Baby were invited to author their own public programs that focused on their own interests as artists/parents. Through this process our goal was to build a critical vocabulary and radical affirmation that the ways in which we care for one another must be considered a powerful form of culture work and that the cultural material we create can contribute directly to the wellness of relationship within families, networks of communities, and across conflicting or complex identities. We assert that those people that act as primary stewards of relationship: mothers, parents, grandparents, caretakers are in a significant position to build political, social, cultural power. And the combination of this role with the role of "culture worker" is of critical importance and requires support.
Aware-LA- Alliance of White Anti Racists - Saturday Dialogue with Facilitator, Clare Fox: Saturday Dialogue is a gathering for white anti-racists who want to discuss issues of identity, community, privilege and racism in our lives with the intention to strengthen our practice as anti-racists in alliances, relationships, and interactions with people of color. Regular, recurring dialogues throughout the year focus on the intersections of multiple identities, including Race and Class, Sexuality and Race, and Gender and Race. Other workshops focus on relationships, Radical White Identity and Community, and issues such as police and the prison industrial complex, immigration, and gentrification. www.awarela.org
The Saturday Dialogue meeting at HRLA was dedicated to Black History Month and a study of commentary by Black thinkers and writers about whiteness, white culture and the role of white people in racial justice work. Through dialogue and a close reading of James Baldwin's essay, "On Being White and Other Lies" (1998) we considered the work of building a white anti-racist practice a critical part of our radical care for the collective, the self, and relationship – within ancestral lineage, family, friendship, and community and inviting participants into a process of making this work visible as a cultural form and an indispensable part of the abolition of white supremacy.
Chicana M(other)work: Facilitators/Christine Vega & Cecilia Caballero Plática y Poetry with Chicana M(other)work, Sunday, February 25, 1-3pm Chicana M(other)work is a concept and project informed by our specific gendered, classed, and racialized experiences. Chicana M(other)work offers a new interpretation of motherwork that looks at the layers of care work we do in our communities through activism, self-care, teaching and mothering.
In this session, Christine and Cecilia from the Chicana M(other)work collective will led a plática and poetry workshop with mothers and caretakers of color to cultivate a communal space of healing and care through storytelling . First, a plática was held to share mindbodyspirits about ways they have engaged with radical mothering for themselves, their children, and communities. Then, using Gloria Anzaldua's writings as a guide, they drew from their plática to create a communal poem which served to illuminate their radical visions where mothers and children will lead the way for social justice.
Community Dinners, Tuesdays, 6pm-10pm Participants were invited to join us for a community weekly dinner where we used the practice of "potluck" as a way to pose questions of interest to our collective survival, building knowledges and community through a shared meal. While these dinners served as a space to continue relationship building within our collective they were also an entry point for people to propose specific topics for discussion. On one such occasion artist, Christy Roberts Berkowitz guest hosted a vegan potluck and moderated a discussion about restorative justice.
Community Acupuncture & Workshop - Self Care/Collective Care & Capitalism with Facilitator, Andrea Penagos, Artist/Medicine Worker: Andrea Penagos, L.Ac. is a licensed acupuncturist, herbalist, and holistic health practitioner based in Mid City, Los Angeles. She treats a variety of ailments including stress, pain, fatigue, and mood, digestive and menstrual imbalances via her private healing practice and monthly community acupuncture circles around LA. Participants were invited to engage in self-care with a group acupuncture session + guided meditation facilitated by licensed acupuncturist. Then on a later date folks were invited back for a movement-oriented and spatial mapping exploration into self-care as it informs community healing and inter community solidarity as a form of resistance to capitalist impositions on wellness. This curriculum was a collaborative work between Andrea and Kristy Lovich. *Unfortunately, due to an unexpected family emergency Andrea Penagos needed to withdraw her participation. Both of these programs will continue at a later date.
Consultation with Leonardo Vilchis, Organizer with Union de Vecinos: Leonardo Vilchis is a co-founder and organizer with Union de Vecinos, a Boyle Heights based community organization currently leading efforts in their neighborhood to resist gentrification and economic and environmental discrimination. In addition to his role within this organization, Leonardo is also a member of artist collaboratives Ultra-Red and School of Echoes. I reached out to him for consultation and feedback on the entire exhibition, the organizational proposal of Mountain House, and expertise regarding the social-political and ethical implications of artists role in community led organizing for political/cultural change and the politics of land use and real estate.